How to Add Smart Technology to Your Conference Room
Use the Best Commercial Audio Video in Your Texas Business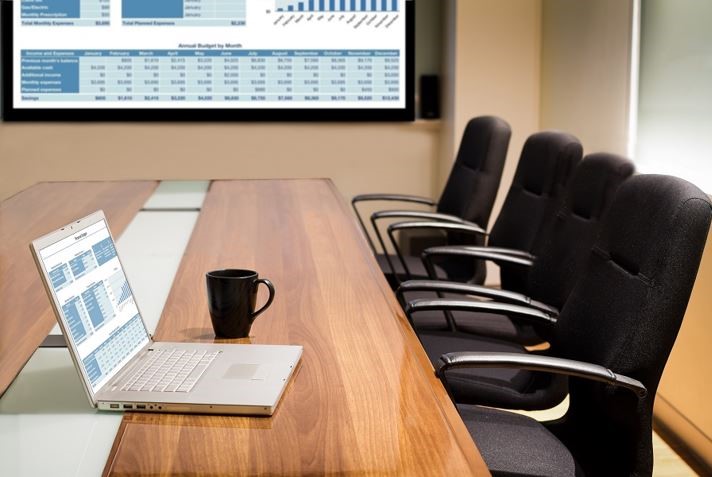 You could say that your conference room is the most important accessory in your business. You use it for important meetings, presentations and even special events with the staff. Is your room up to date? Read this blog to find out exactly what commercial audio video technologies your Beaumont, Texas business needs in the conference room to impress clients and improve efficiency.
Choose Between a TV and Projector
There are two preferred options when it comes to your visual display: a 4K flat screen TV or a projector and screen. A projector can create a larger video display, but some projector screens can be very sensitive to light. A special screen, like Screen Innovation's Black Diamond screen will help prevent getting a washed out image, and you can also install motorized shades to prevent glare too. If you go with a 4K TV, we can ensure you can make presentations, show videos, and even take notes during meetings. Some TVs have touch screen capabilities and act as smart white boards.
SEE ALSO: It's Time to Upgrade Your Boardroom's Audio Video System
Install High-Quality Audio
Make sure there is no miscommunication during meetings with quality sound in your conference room. It all begins with the right placement and installation of microphones to avoid distortion or feedback. Make sure incoming calls are just as crisp with expertly laid out speakers that are installed in the ceiling. Using softer materials such as carpet and draperies helps to keep sound waves from bouncing off hard surfaces and creating echoes in the room. If you want to ensure all the sound stays in the room and doesn't leak out, add acoustic panels and sound proofing materials. Your meeting will be private and also won't disturb others in the building.
Use the Ultimate Control System
Often the biggest challenge during a meeting is making sure all the technology works together. We can create a custom system that gives you full control of your visual display, audio, phones, lights and even the temperature using a tablet, smartphone or touchpad. You can even create pre-set scenes to avoid fumbling with settings right before an important call or presentation. Simply press your saved "Conference" scene and the lights dim, shades close and your screen turns on and changes to its conference setting. All you have to do is dial the phone number and you're ready to go.
Invest in a Reliable Network
All your technology upgrades won't work unless you have the right network installed. With a strong network, you don't have to worry about calls not coming through or images and sound lagging in the middle of a presentation. We create well-engineered solutions that work efficiently and consistently. We also ensure your network is secure enough to avoid any data breaches during conference calls.

Do you want to create a lasting impression for clients while increasing collaboration within the workplace? Contact us today and we'll install a custom commercial audio video solution in your office.

No video selected.